Fused glass workshops in Dorset.
Wendy runs fused glass workshops from her home studio in West Lulworth on the Dorset coast. You will choose from a variety of fused glass making materials and techniques to create your own unique glass designs in 3 different products: coasters, bunting, decorations, sun - catchers, panels or tea light holders. If you love trying new crafts and being creative, you will love Wendy's fun and relaxed fused glass workshops.
All glass materials are included in the priceof the workshop. If you would like to make glass pendants I do have to charge for sterling silver jewellery bails and chains.
Please note that Wendy doesnt cover screenprinting on glass in her workshops (this is the white printed design in some of her work).
Group fused glass workshops (email Wendy to book)
Choose from a date below and book onto a group fused glass making workshop. The workshops last 2.5 hours and cost £65 per person. Workshops are 6 people max to follow Covid guidelines.
Private fused glass workshops (email Wendy to book)
You can book a private workshop for 4 or more friends / family at a date convenient to you. It can be weekdays, week evenings or weekends. This is perfect for birthday celebrations, family get-togethers, works dos or hen parties (fizz and cake are very welcome). The workshops last 2.5 hours and cost £65. Maximum 6 people to follow Covid guidelines.
Gift vouchers for fused glass workshops (purchase in the shop)
PDF gift vouchers, which are emailed for you to print and give as a gift are £65.
Gift voucher boxes, which are sent in the post and include a glass decoration are £70 (including postage).
Wendy has worked with fused glass for over 20 years and loves sharing her knowledge and skills during the workshops, helping you create gorgeous fused glass products. She graduated with a 1st class degree in glass from Edinburgh College of Art in 2000 then received the prestigious Crafts Council Start Up Award to purchase equipment to start Red Brick Glass (the glass kiln is still going strong 20 years on!).
3 years ago Wendy moved into her new home and studio, a gorgeous barn conversion in the beautiful village of West Lulworth, Dorset. The workshop room is filled with light and looks out over the Lulworth hills. A perfect place for some creative, fun glass making.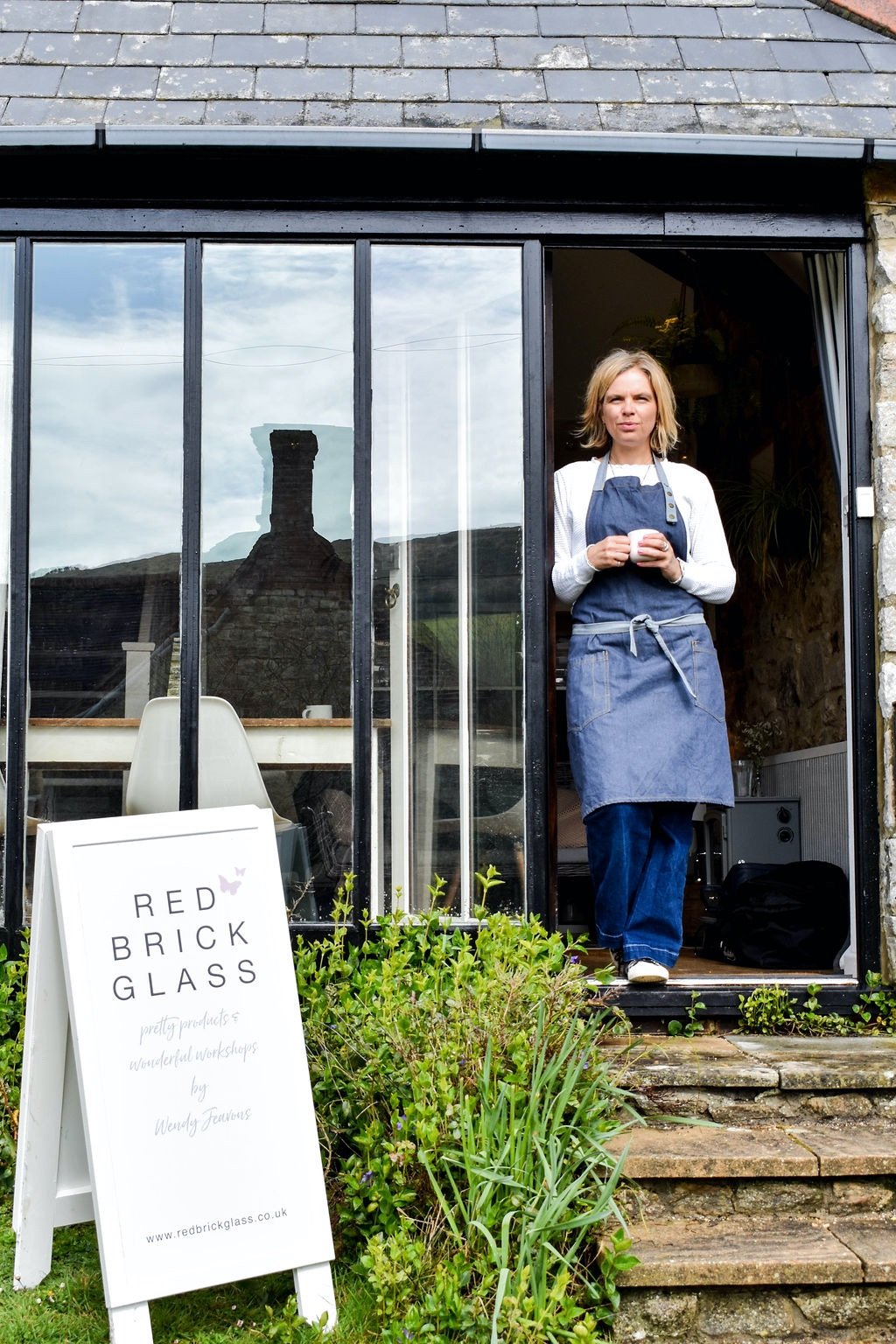 2021 / 2022 workshops dates
Friday 3rd December, 3pm
Saturday 4th December, 10.30 am - Full
Friday 7th January 2022, 10.30am
Saturday 8th January 2022, 10.30am
Friday 4th February 2022, 10.30am
Saturday 5th Febuary 2022, 10.30am
Friday 4th March 2022, 10.30am
Saturday 5th March 2022, 10.30am
The workshops will be socially distanced. The workshop space has been redesigned and is now spread over two rooms and when possible, windows will be open (please bring extra layers).
Face coverings are to be worn when entering and leaving the workshop but can be removed whilst seated.
Hand sanitizer will be supplied.
Wendy will take a rapid flow Covid test 24 hours before every workshop.
Please do not attend workshops if you have any Covid 19 symptoms or have tested positive. If you test positive for Covid up to 10 days after the event, please inform Wendy.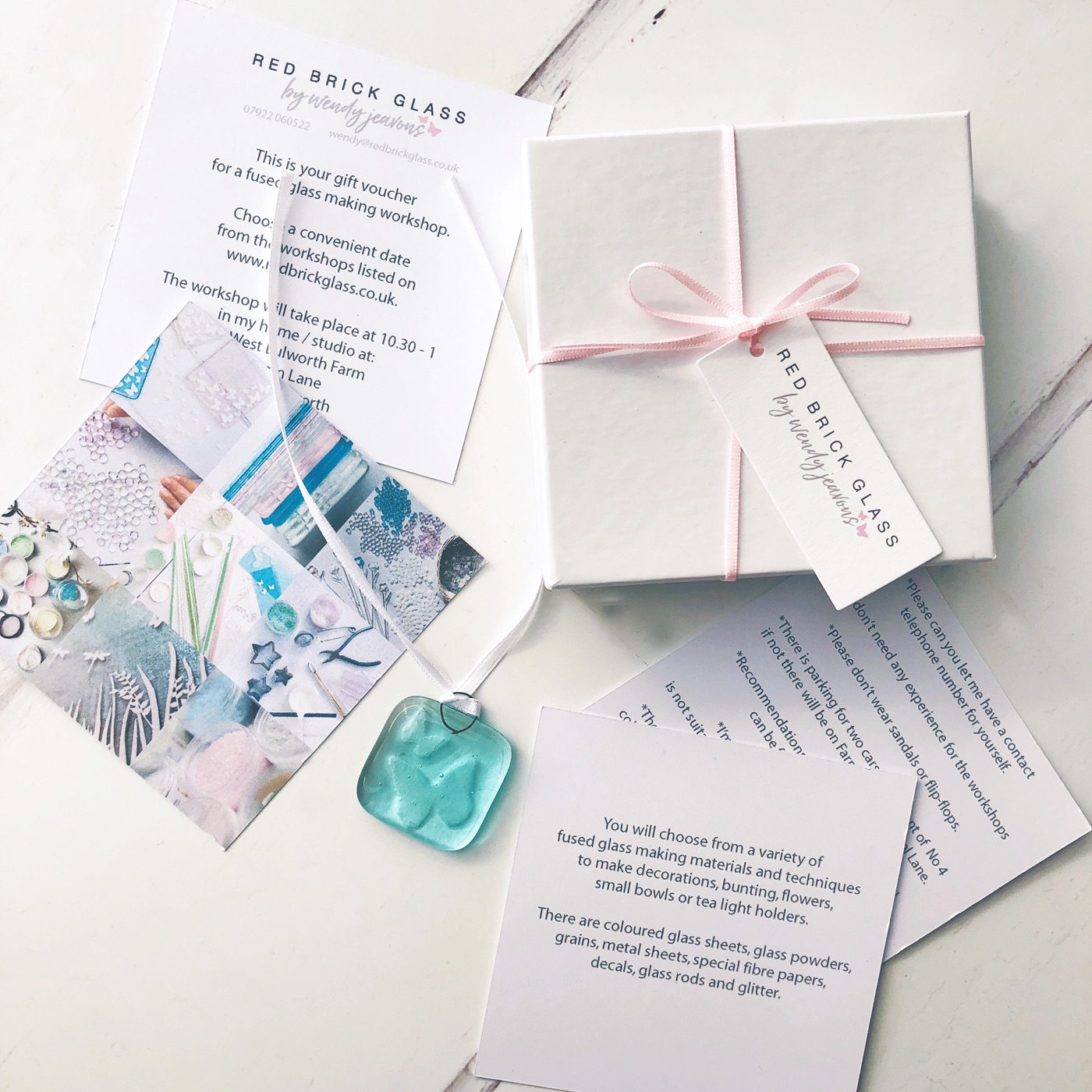 Fused glass (sometimes known as kiln-formed glass, warm glass or glass fusion) is a creative technique where two or more glass elements are fused together in a kiln. The glass comes in a variety of forms in a huge range of gorgeous colours: sheets (which are cut by hand), crushed glass, thin flakes rods and powders.
The kiln temperature can be controlled so at a lower temperature the glass will lightly stick together, keeping its shape (tack fusing) or at a higher temperature the glass will start to move, distort and melt together (full fusing). In the kiln the glass can also be bent over a plaster mould to take on the form of the shape like a bowl (known as slumping) or cast in a mould so the glass becomes completely fluid. Additional kiln formed techniques include embossing, screen – printing and painting. The temperatures at which glass is worked in a kiln are usually between 1000–1700°f (538–927°c) and the kiln firings often take 24 hours as the glass must cool down slowly.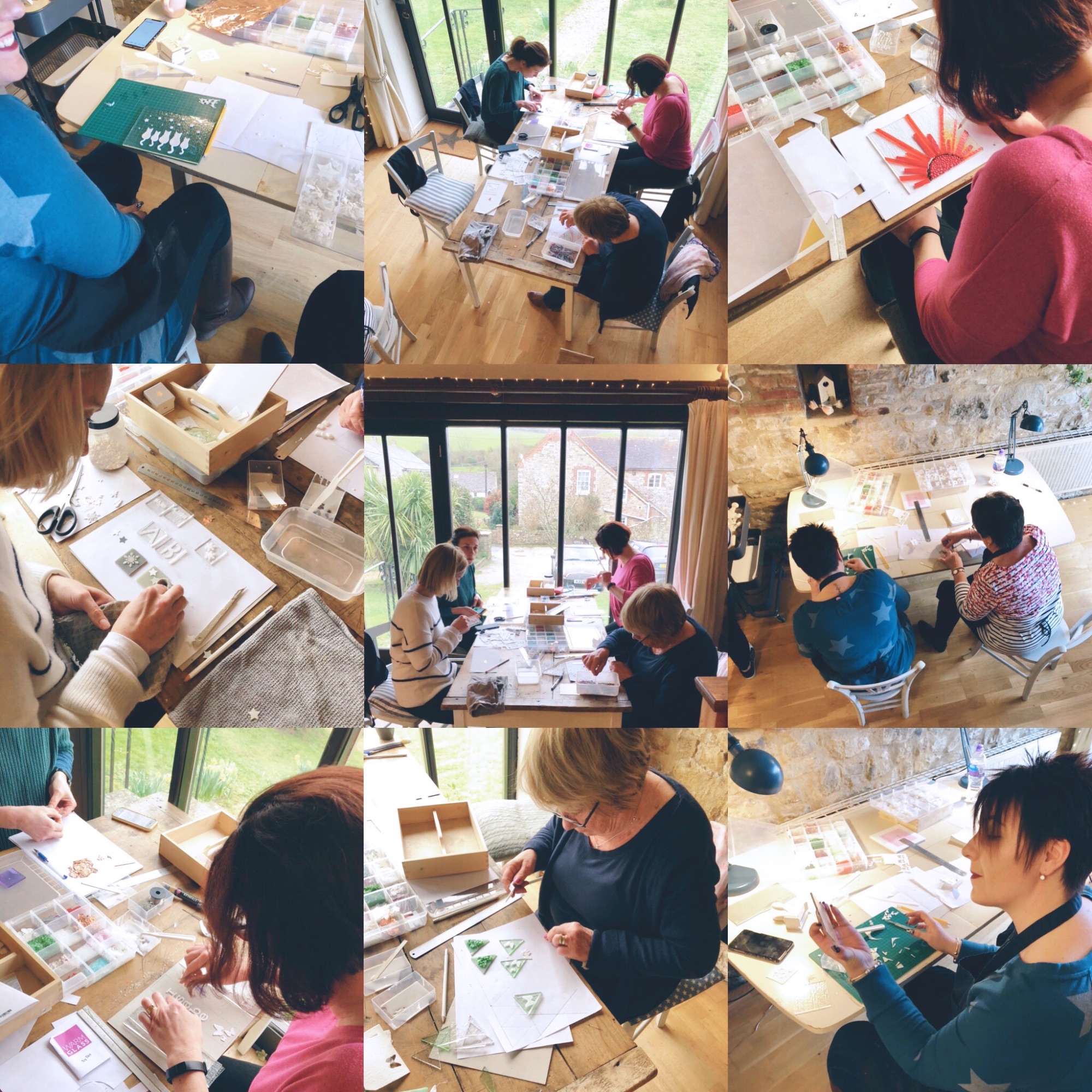 Wendy's fused glass making workshops are for beginners, so no experience is needed. They are friendly, fun and relaxing. The workshops are held in Wendy's barn conversion home studio in beautiful Lulworth, Dorset. It's an idyllic setting for a peaceful, creative morning.
In the workshops you will choose from a variety of fused glass materials to work with. There is coloured glass sheets, glass powders, grains, metal sheets, special fibre papers, glass rods and glitter.
You can choose to make 3 different fused glass items including coasters, tea light holders, flowers, decorations and bunting. Items can be personalised too, making lovely gifts.
Your glass creations will be fired in the kiln and ready to be collected or sent 7 days after the workshop.
Wendy's home studio is just 15 minutes walk from the stunning Lulworth Cove and Durdle Door, Dorset. You can combine your workshop with a coastal walk, or lunch in our fabulous village pub or gorgeous beach cafe.